The Swiss Army Knife of Influencer Marketing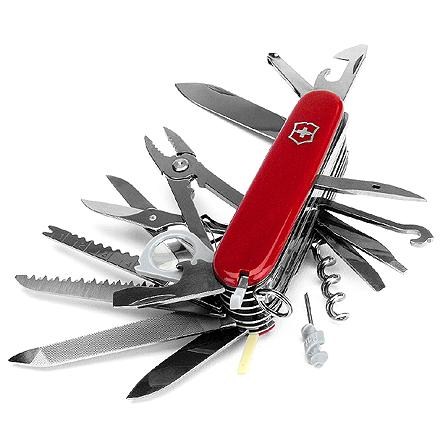 Reserve your place in line today
The Skylab program (1973-1974) proved that humans could live and work in outer space for extended periods of time. During these missions, astronauts onboard had to repair or replace components from time to time. But they did not like to open a toolbox at zero gravity, because everything just popped out and flew around in the space lab. A Swiss Army knife – in fact a pocket-sized toolkit – was the solution to this. No parts flying around and astronauts had just one tool to carry. Thus, in the late 1970's, a subcontractor who was responsible for all of NASA's onboard purchases bought 50 pieces of the Victorinox Master Craftsman knife for their astronauts.

Reloquence provides you with your first in-house solution that consolidates all of your essential influencer marketing tools into one handy, lightweight toolkit - much like a Swiss Army knife. Influencer marketing is still in its infancy, and the tools that allow you to run successful campaigns are constantly evolving. What tools will you use to create an image to post to Instagram? What tools will you use for a YouTube video? What content will you choose for your paid sponsorship campaigns on social media?

The Reloquence Toolkit is intuitive and easy to use. Read "How it Works" to learn more. We leave it up to you, because you know your business better than anyone. If you have never run an influencer campaign, don't be intimidated. We all have to start somewhere. Reloquence makes it easy for you to learn and grow your brand's reach on social media, while working with the pros. Then, reuse the content on your own channels for maximum impact and ROI.
READ WHAT THE EXPERTS ARE SAYING
"Start with the word. A big campaign can only be expressed in words that lend themselves to visual excitement."
- GEORGE LOIS, DAMN GOOD ADVICE

"We buy based on feelings and then justify those conclusions. Human beings are not rational, but rather rationalizing animals. If they find it frightening to think and painful to change, this is in a large part because thinking and changing represent major threats to the beliefs that make up their sense of self."
- BRYAN DEL MONTE, THE AVIATION AGENCY

"Influencer marketing is more than just a lever. It's a way of looking at marketing differently, through the prism of the creation of branded content."
- TANKE AGENCY, PARIS

Most of the marketing automation software today automates the creative out of the process. With Reloquence, we don't tell you what to say or how to say it. We provide you with a platform on which to build your community of brand ambassadors, who will then help you to co-create original, user-centric content at internet scale. The keyword is original. If you want to get noticed on social media, you have to do something different.

We have invited influencers to Reloquence who we feel are leading the charge in terms of the best influencer marketing campaigns in the world. Some of our influencers have worked on Calvin Klein's Obsessed campaign. Others have worked with RavPower. Some have worked with Alaska Airlines. What they all have in common is that their content is unique.

We encourage you to invite our influencers to join your own networks, but also to reach out to others who you feel best represent your business. With Reloquence, it is easy to invite new influencers to join your own white label toolkit, and then to email them with updates about your campaign goals. When you select and onboard your influencers, you are sketching the outline of your campaigns.
HOW HAS THE SWISS ARMY KNIFE BEEN USED OVER THE YEARS?
Here are a few of the ways that the original designers could never have imagined:
Space Age: NASA issued a Victorinox Master Craftsman model to the crews of its space shuttles. It was a German astronaut, Ulf Merbold, who used a Swiss Army knife on a shuttle mission in 1983 to rewire some electrical connections, saving some expensive scientific experiments.

The Space Station Breacher: When Canadian astronaut Chris Hadfield was docking his space shuttle to the Russian Mir space station, he found the Russians had been overzealous in sealing the hatch. Hadfield used his Swiss Army knife to break into the Russian space station by cutting away the strapping and tape.

Screwy Idea: When a customer suggested the addition of a tiny screwdriver, the Victorinox designers didn't want to do away with the toothpick to find room for one. That's when they created the screwdriver that fits inside the corkscrew.

We encourage our customers to push the limits of the Reloquence Tookit and find uses and extensions that we could not have conceived of ourselves. Take the Reloquence challenge, and tell us how you have used your white label toolkit to grow your audience and increase brand awareness on social media. Tell us about the tools that you have added to your toolkit, and why they are essential to your successful influencer marketing strategy.
We don't have a supply of prebuilt toolkits. Each one is custom crafted for our clients. You can add your logo to the toolkit and design it in your brand's colors. You can choose your own influencers, and select the information that you would like them to display about themselves. Think of your toolkit as one-of-a-kind with your own inscriptions and monograms. That is why we have a waitlist.

Stay tuned for some insightful perspectives from two of our newest guest bloggers, Wendy Melillo and Bryan Del Monte. Wendy will be writing about the intersection of art and advertising, and Bryan will cover influencer marketing and the aviation industry. They are both highly entertaining and talented writers, so you can enjoy the process as you learn from the best at Reloquence.

Sign up now to get on the waitlist for the Swiss Army Knife of Influencer Marketing. Our price point is $500/month. Prepay for 6 months to jump to the front of the line. Tell us your story, and we will highlight you in our blogs and newsletters too.
[Photo Credits: Victorinox pictures including NASA letter: jeroensvictorinox.blogspot.nl]